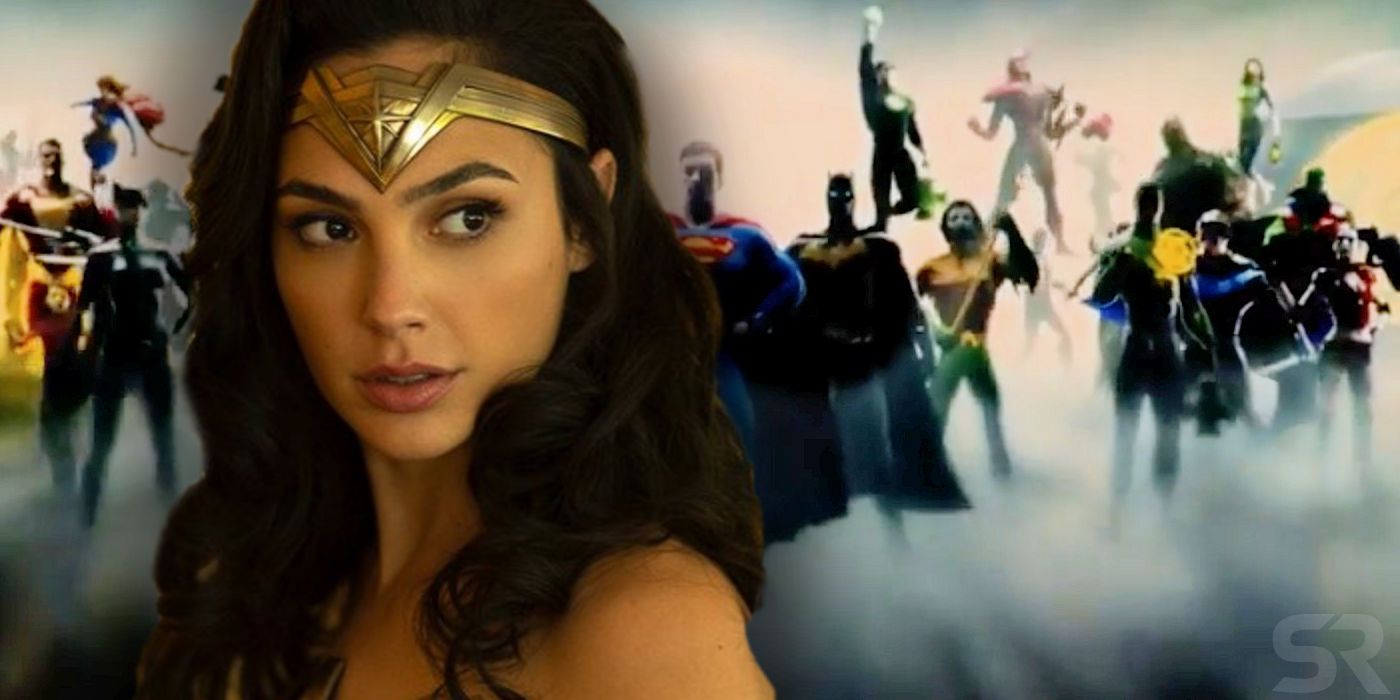 Wonder Woman 1984 is easily one of the most anticipated superhero movies on Warner Bros.'s slate, but when it finally does hit theaters in summer 2020, it just might break the DCEU's informal sequel tradition. It's been three years since WB launched their DC movie universe with Zack Snyder's Batman V Superman: Dawn of Justice, which was quickly expanded with David Ayer's Suicide Squad back in summer 2016. While the franchise has endured its fair share of criticisms, there have been some highlights along the way.
Even though Man of Steel, Batman V Superman, and Suicide Squad each have their own fan bases, it was Patty Jenkins' Wonder Woman that was seen as a turning point for the DCEU in the eyes of the general public. It garnered rave reviews, eventually becoming one of Rotten Tomatoes' highest-rated superhero movies ever, as well as becoming the highest-grossing superhero origin story at the box office. That significantly bolstered excitement for a sequel, which is coming next year.
Related: How DC Films & The DCEU Really Works
Wonder Woman 1984 sees Jenkins back in the director's chair, with a screenplay from herself, Dave Callaham, and former DC Films chief Geoff Johns. It'll be the ninth installment in the DCEU when it hits theaters, and while it continues Diana's story decades after her fight with Ares in 2017's Wonder Woman movie, it remains unclear at this stage exactly how it fits into the overarching shared universe. It seems that, based on everything we know about the upcoming sequel, Wonder Woman 1984 will ultimately break one of the few traditions the DCEU has left from its inception.
This Page: Every DCEU Movie Is A Sequel
Every DCEU Movie Has Been A Sequel In Some Form
So far, every DCEU movie has been a sequel to the one before it. Batman V Superman: Dawn of Justice was very much a result of the Black Zero event in Man of Steel, and because Superman died in Batman V Superman, that convinced the US government to allow Amanda Waller to form her Task Force X in Suicide Squad. At the start of that movie, David Harbour's Dexter Tolliver was primarily concerned about the next Superman not sharing their ideals for truth, justice, and the American way.
From there, Wonder Woman took place sometime between Batman V Superman and Justice League, as evidenced by its opening and ending scenes. While the bulk of the movie was set during World War I, it was the photo that Bruce Wayne delivered to her that triggered her memory. The entire movie was a flashback. And then after that, Justice League happened, which audiences can sort of see at the beginning and end of Wonder Woman.
Related: After Aquaman, The Next DC Movies Are All 6 Months Or Less Apart
And while Aquaman is technically an origin story, it's still a sequel to (Zack Snyder's) Justice League, with Mera even referencing Steppenwolf's defeat. Next up on the docket are Shazam!, Joker, Birds of Prey (and the Emancipation of One Harley Quinn), and Wonder Woman 1984. Joker, of course, is separate from the DCEU; Shazam! takes place after Justice League and Birds of Prey is at least set after Suicide Squad. That just leaves Wonder Woman 1984 as the odd one out here.
What We Know About Wonder Woman 1984
To start off, Wonder Woman 1984 is confirmed to take place, well… in 1984. As Screen Rant first reported in 2017, the upcoming Wonder Woman sequel is set at the height of the Cold War and not only sees Gal Gadot reprise her role as Princess Diana, aka Wonder Woman, but surprisingly Chris Pine as Steve Trevor as well. Exactly how Steve Trevor returns for Wonder Woman 1984 remains to be seen, but it's something that everyone involved has promised will make sense and even be worth it.
Since Wonder Woman 1984 takes place in the '80s, it seems there's a fair chance that audiences won't see a post-Justice League Wonder Woman just yet. Batman V Superman provided Patty Jenkins with the perfect outlet for which to explore WWI – the lost photograph that Lex Luthor obtained – whereas Wonder Woman 1984 isn't confirmed to have any such sequence in the present day. That may change, of course, but as it stands, Wonder Woman 1984 is primarily a sequel to (or, more accurately, a standalone continuation of) 2017's Wonder Woman and not another flashback movie.
Related: Who's Wonder Woman 2's REAL Villain?
Since Kristen Wiig is playing Cheetah, an all-new villain in the DCEU, it's possible that perhaps she's still alive in the present day and seeing her is what triggers yet another flashback memory for Diana – but that means there would need to be a substantial amount of the story set in the present day. And since none of the photos and videos from the set have indicated that Wonder Woman 1984 takes place outside of the '80s at all, that notion seems unlikely. Pedro Pascal's currently unnamed character (who is reportedly a powerful villain) may have something to do with it, but for now, it seems that Wonder Woman 1984 is firmly a DCEU prequel, not sequel.
What Breaking Tradition Means For The DCEU's Future
Although Wonder Woman 1984 potentially breaking DCEU tradition isn't good, it's not necessarily a bad thing either. The DCEU is in a much different place now than it was just three years ago; Batman V Superman was meant to launch a universe that has been largely tossed aside in the years since its release.
Snyder's original five-movie DCEU plan involved each installment being a sequel to the one before it, and then ultimately ending with a final story. It wasn't about expanding into a full-fledged shared universe, at least not in the beginning. So, breaking the DCEU's sequel tradition is yet another step, albeit a small one, in distancing the franchise from its creator – Snyder. Furthermore, it brings the universe a bit closer to the MCU, despite the fact that WB is no longer following the Marvel formula. To them, standalone movies are the name of the game now, which is great.
Related: Why Aquaman and Wonder Woman Get Good Reviews But Not Batman and Superman
Standalone movies like Aquaman and Wonder Woman, not to mention Shazam!, which follow characters that have had little to zero big screen presence before, is exactly what the DCEU needs to find its footing post-Justice League. Remaining mostly separated doesn't mean there can't still be team-up movies down the line, but having the option not to worry about connecting every movie to the one before it – not just the previous installment in that series but the franchise as a whole – is how the DCEU can avoid continuity issues.
Sure, Wonder Woman 1984 could somehow end up as a sequel to Justice League, Aquaman, and even Birds of Prey, but that seems unlikely at this stage. Instead, fans may have to wait until Wonder Woman 3, Justice League 2, or even a Flashpoint adaptation before they can see what Diana, Princess of Themyscira, is up to in the present day.