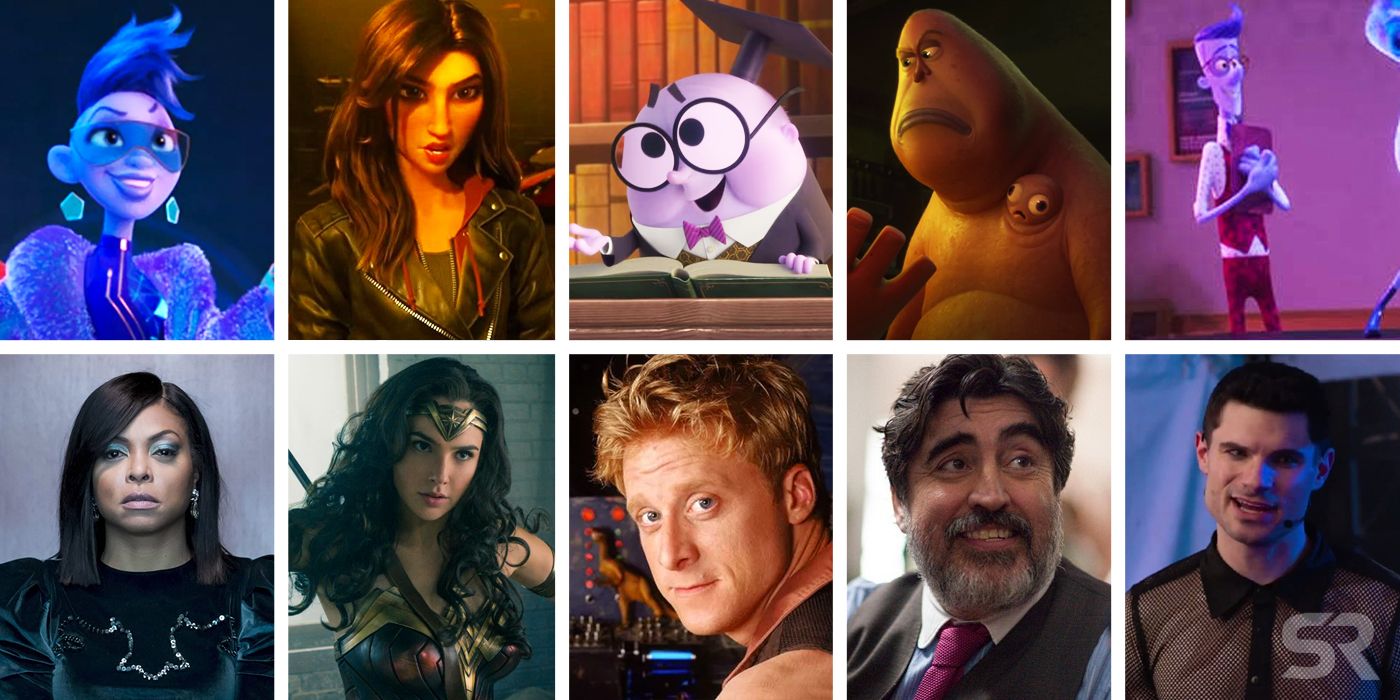 Here are all the new voices you'll hear in Ralph Breaks the Internet: Wreck-It Ralph 2. Obviously, the sequel to Disney's Wreck-It Ralph sees John C. Reilley and Sarah Silverman return as the voices of computer game characters, former villain Ralph and racer Vanellope, respectively.
This time, though, Ralph and his feisty young sidekick get transported to the internet. In Wreck-It Ralph 2, when Vanellope's game breaks, the pair use a new WiFi router plugged in at the arcade to travel into cyberspace to find a replacement. What follows is a weird journey behind-the-scenes of your computer.
Related: Wreck-It Ralph 2's Stan Lee Cameo Revealed
Of course, this literally opens up a whole new world for the pair of them, and in turn, that means a wealth of new characters, as well as some true Disney familiars. Here's who's voicing the newest cast members of Wreck-It Ralph 2.
This Page: New Voice Actors In Wreck-It Ralph 2
New Voice Actors In Wreck-It Ralph 2
Gal Gadot is Shank: Wonder Woman has crossed over into the Disney fold. Gal Dadot, best known as Diana Prince in the DCEU, lends her voice to Shank, a no-nonsense, hard-hitting boss who lives in a racing game. She is usually accompanied by a band of followers named Butcher Boy, Pyro, Felony and Little Debbie. She comes across as a tough cookie, but she's actually incredibly caring and kind. She becomes close to Vanellope, since the two share a love of racing driving.
Taraji P. Henson is Yesss: Ralph Breaks the Internet doesn't just delve into video games. Taraji P. Henson is the voice of Yesss, an algorithm for the media website, BuzzzTube. Not only does Yesss always know what's trending, she can change her look in an instant to reflect that as well. She helps Ralph and Vanellope navigate the internet. Henson is a very well known actress, having appeared in Empire, Person of Interest, and the movie, Hidden Figures.
Alan Tudyk is KnowsMore: A brilliant piece of voice casting, Tudyk plays an annoying mascot of a search engine. KnowsMore has an autofill function, which means he takes great delight in finishing other people's sentences (Ralph is not exactly thrilled about that). While Tudyk's role is not huge, it is very funny, and KnowsMore will be a firm favorite for many. Tudyk has provided various voices for Disney before, including roles in Big Hero 6, Moana, Frozen, and Zootropolis (as well as Turbo in the first Wreck-It Ralph)
Alfred Molina is Double Dan: Double Dan is the overlord of the Dark Net's apothecary. He has a conjoined twin, named Little Dan, who lives in the folds of his neck. He's pretty gross. Molina is a prolific actor, best known for roles in Spider-Man 2 and Feud.
Flula Borg is Maybe: Maybe is the long-suffering assistant to Yesss. His job at BuzzzTube is to decide what's trending and what's not. However, he has a very indecisive personality (the clue is in his name), and so his job is tougher than it needs to be. Borg has done a lot of voice work, including playing characters in Ferdinand, Tangled: The Series, and Boss Baby: Back in Business.
Related: How Many Post-Credits Scenes Does Wreck-It Ralph Have?
The Disney Characters & Princesses Voice Actors In Wreck-It Ralph 2
As already seen in trailers, Ralph and Vanellope visit Oh My Disney during their time in the internet, where they meet or glimpse a plethora of Disney, Marvel, Star Wars and Jim Henson characters, including Baymax, Buzz Lightyear, Baby Groot, Storm Troopers, and Kermit. Most of these cameos are non-speaking; we simply see the character walking through the shot in the background, but others are more substantial. Listed with speaking parts on IMDb is Tim Allen as Buzz Lightyear, Brad Garret as Eeyore, Anthony Daniels as C-3PO, and Vin Diesel as Baby Groot. Corey Burton is listed as the voice of Grumpy (obviously not the original voice artist).
Then, there's the Princesses. They steal the whole movie in their scenes which they share with Vanellope, and nearly all of the original voice artists have returned to voice their own character.
Related: How Ralph Breaks The Internet's Princess Scene Came To Be
Kristen Bell is Anna (Frozen): Actress Kristen Bell lent her voice to Anna in Disney's 2013 smash hit, Frozen. She is also reprising her role in Frozen 2. 
Idina Menzel is Elsa (Frozen): Broadway star Idina Menzel reprises her role as Anna's older sister and Queen of Arandelle. She is also returning for Frozen 2. 
Irene Bedard is Pochahontas: Irene Bedard originally voiced Pocahontas back in 1995. She's reprised the role several times since, including for Pocahontas 2, and, randomly, for 2 episodes of Paw Patrol in 2018. She also voiced Pocahontas' mother in The New World in 2005.
Jodi Benson is Ariel (The Little Mermaid): Jodi Benson is renowned as the voice of Ariel in The Little Mermaid, which was released in 1989. Since then, she's reprised her role several times since. She's also as the voice of Barbie in the Toy Story movies.
Auli'i Cravalho is Moana: From the movie of the same name, Auli'i Cravalho earned great reviews for her turn as Moana in 2016.
Jennifer Hale is Cinderella: Cinderella was originally voiced by the late Ilene Woods. In Wreck-It Ralph 2, she is voiced by Jennifer Hale, who has done a lot of voice over work, including work on Sofia the First for Disney. She's best known for her work on the Mass Effect series.
Kate Higgins is Aurora (Sleeping Beauty): Original voice artist Mary Costa is now 88 years old, so Aurora is now being voiced by Kate Higgins, who has provided voiceovers for many video games and TV series, including the Powerpuff Girls
Linda Larkin is Jasmine (Aladdin): Linda Larkin is the original voice of Princess Jasmine, while Lea Salonga provided her singing voice. Larkin has reprised her role several times since.
Kelly Macdonald is Merida (Brave): Kelly Macdonald is the original voice of Merida. She is a Scottish actress, known for her role of Diane in Trainspotting and T2. 
Mandy Moore is Rapunzel (Tangled): Mandy Moore has been the voice of Rapunzel since 2010. It's a role she has played often, including on Sofia the First and for the Tangled TV series.
Paige O'Hara is Belle (Beauty and the Beast): Paige O'Hara voiced Belle in the Oscar winning Beauty and the Beast. She's globally renowned for the part, and hasn't had too many other roles.
Pamela Ribon is Snow White: Adriana Caselotti was the original voice of Snow White, providing that unique warbling tone we've all come to recognize. The character is now voiced by Pamela Ribon, who wrote the screenplay for Ralph Breaks the Internet. 
Anika Noni Rose is Tiana (Princess and the Frog): Anika Noni Rose is the original voice of Tiana, as well as being a Tony Award winning musical theater star.
Ming-Na Wen is Fa Mulan: Ming-NaWen is the original voice of Mulan, a role she's voiced numerous times including on Sofia the First. Apart from being Mulan, she is best known for her long-standing role on Agents of S.H.I.E.L.D.