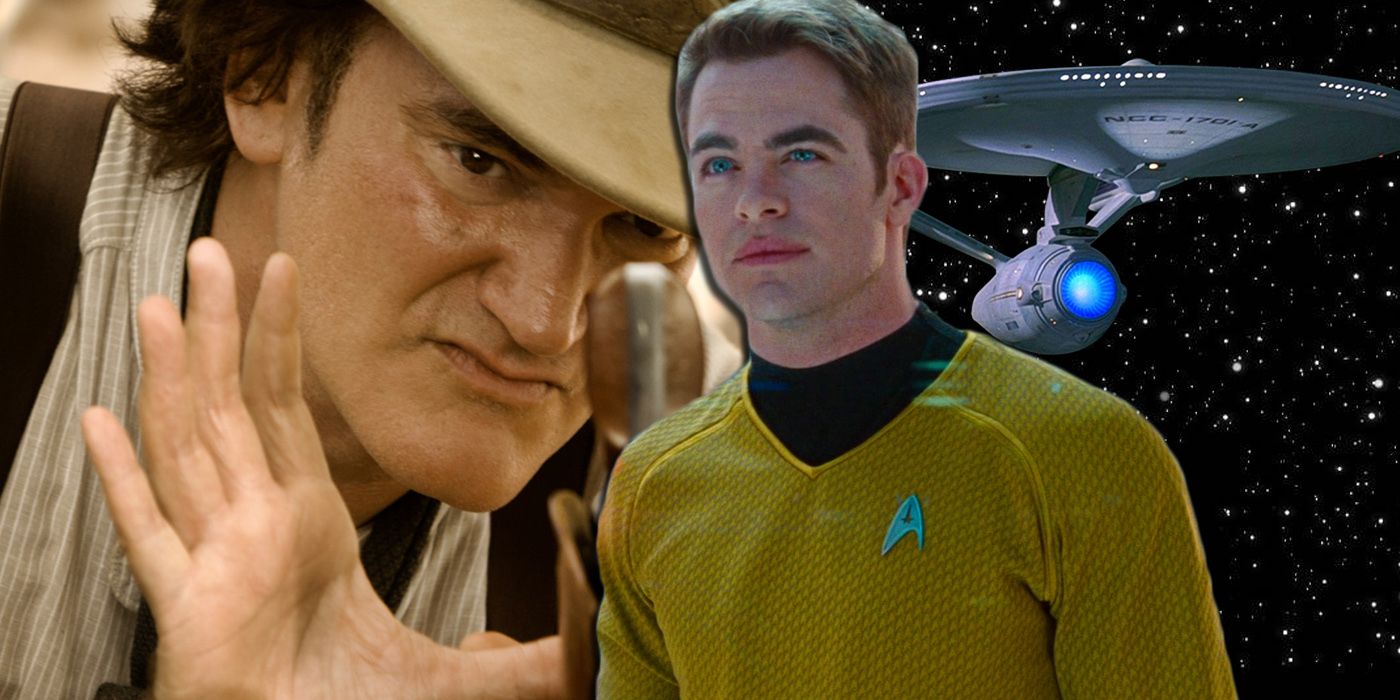 While it was previously thought that Quentin Tarantino's Star Trek film would involve an entirely new cast, actor Zachary Quinto has indicated that the project might actually bring back the cast from J.J. Abrams' Star Trek films. Quinto has been involved with the most recent string of Star Trek films in the Kelvin Timeline as Spock since Abrams' first film back in 2009. The star is a regular source of updates on the franchise and often provides important looks into where the Kelvin Timeline is going.
It was first announced back in 2017 that Tarantino was considering a Star Trek film. The news caused quite a bit of excitement and debate amongst Trek fans, with some claiming that the filmmaker's unique style would bring some new, bold energy to the franchise, whereas others argued the director was a completely inappropriate choice and did not fit Star Trek at all. Franchise star Simon Pegg himself was skeptical of the news, once saying that the Tarantino choice was "an odd thing to do." Even though a good amount of time has passed since the initial announcement, no concrete storylines or plans have been floated and the project itself has not yet officially been confirmed. Earlier this year, Paramount hinted that another film besides Star Trek 4, the sequel to 2016's Star Trek Beyond, was being developed, which could have been a veiled confirmation of Tarantino's film.
Related: Star Trek 4: Zachary Quinto Says 4 Scripts Are In Development
With his most recent comments, Quinto has certainly indicated that the Tarantino-led Star Trek is coming into fruition. When asked about any details concerning the Tarantino film, Quinto said that he's under the impression that it will involve the Kelvin timeline crew. "My assumption is that it is with us. That is how it has been presented," Quinto said on MTV's Happy Sad Confused podcast (via TrekMovie). When asked for any more information, the star responded:
"You know, until deals are done and contracts are signed and schedules are cleared, nothing is set in stone, so anything can happen. My understanding is Quentin had this idea and they were shaping it and forming it and he is off to do his Manson movie. And it would be after that, that we would go maybe do one with him. Which is pretty exciting, pretty cool."
If Abrams' cast returned, it would confirm that Tarantino's Star Trek is set within the Kelvin timeline. Early reports surrounding Tarantino's film claimed it would be a stand-alone entirely separate from Abrams' Star Trek films, but Quinto's latest statements appear to correct this and suggest that it would be connected to the Kelvin timeline, after all. Even if the Tarantino project falls through, Quinto is just happy to be able to continue playing his character with Star Trek 4. At the moment, Star Trek 4 will be directed by S.J. Clarkson, who has previously worked on episodes of Jessica Jones and The Defenders, and will be first woman to direct a Star Trek film.
Tarantino is currently knee-deep on his next film, Once Upon a Time in Hollywood, a crime thriller set in Charles Manson-era Hollywood. The director is busy at the moment, as is the Star Trek cast according to Quinto. Importantly, the actor's comments stressed that nothing is set in stone at the moment. The fate of Tarantino's Star Trek film continues to hang on a delicate thread, and fans will have to hope that all of the various factors going into a film's production line up correctly so that Tarantino's vision of the Trek universe can finally come to life.
Source: Happy Sad Confused
The post Zachary Quinto: Tarantino's Star Trek Film Brings Back Abrams' Cast appeared first on ScreenRant