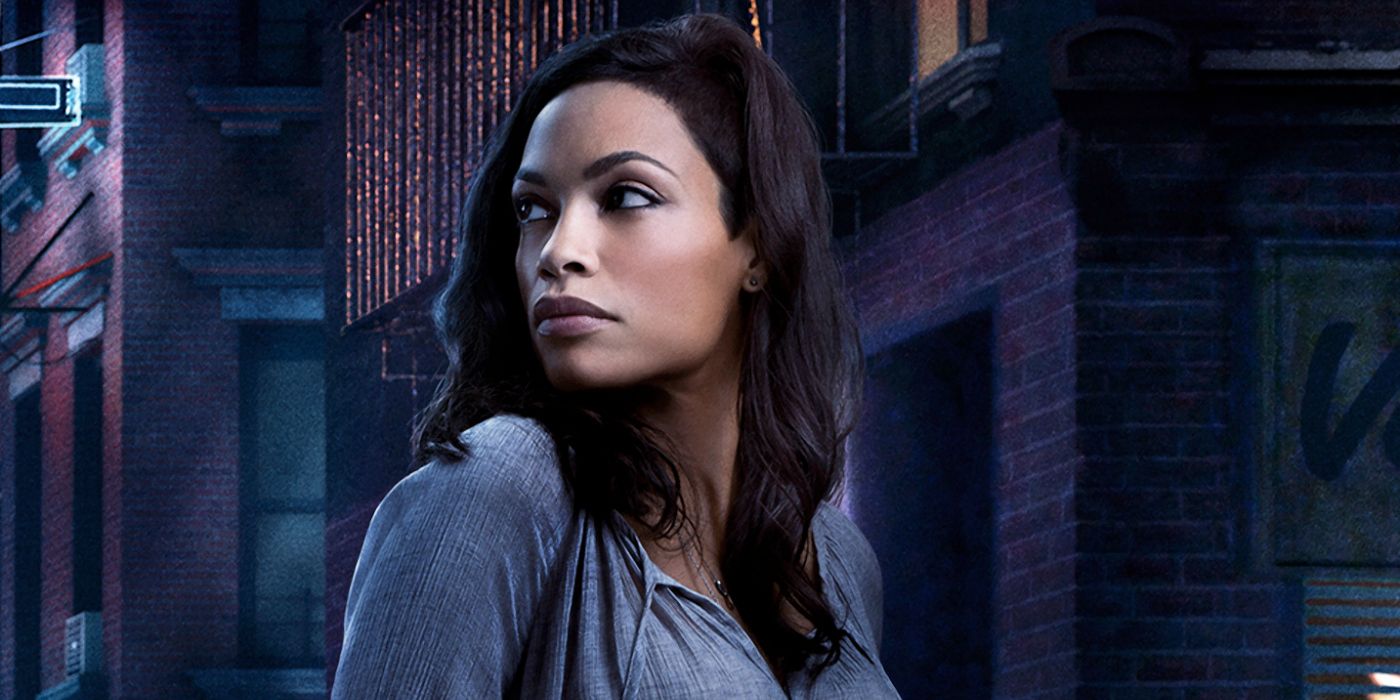 The horror-comedy sequel Zombieland 2 has added Grindhouse and Sin City actress Rosario Dawson to its cast. A follow-up to 2009's Zombieland, the film has already locked down returning stars Jesse Eisenberg, Emma Stone, Abigail Breslin and Woody Harrelson. Bill Murray will also reportedly return after his memorable cameo in the original, and will be joined by fellow SNL and Ghostbusters alum Dan Aykroyd.
Production on Zombieland 2 was reportedly set to begin in January, with Ruben Fleischer once again in the director's chair. According to another recent report, the sequel sees the four main characters from the original film setting up camp in the White House, only to see their makeshift family broken up by a fight. After Abigail Breslin's Little Rock runs off with a man named Berkeley (Avan Jogia), her friends Columbus, Tallahassee and Wichita head off to find her, and encounter some new varieties of the undead including deadly "Ninja" zombies. They also meet a new character named Madison, played by Zoey Deutch.
Related: Sony's Bringing Back Its Biggest Franchises (After Losing James Bond)
As reported by Deadline, the already-impressive Zombieland 2 ensemble is getting another new addition in the person of Rosario Dawson. No details about her character are being offered up, however, the previous report about plot details mentioned a female zombie killer named Nevada who crosses paths with Harrelson's Tallahassee. Dawson would be a natural choice to play this new, highly skilled zombie-killing character who could seemingly become a love interest for Tallahassee as well.
Harrelson and Dawson have in fact worked together before, both appearing in the 2008 Will Smith drama Seven Pounds. Dawson got her big break as an actress back in 1995 when she appeared in Larry Clark's controversial drama Kids, and later went on to appear in everything from Men in Black II to Tarantino's Death Proof to Frank Miller's Sin City to Kevin Smith's Clerks II. The actress joined the Marvel Universe when she took on the role of Clair Temple for the now-canceled Daredevil. Dawson also played Temple on Jessica Jones, Iron Fist, The Defenders and Luke Cage.
With her run as a Marvel Universe heroine seemingly at an end as Netflix cancels all its Marvel shows, Dawson will make the leap over to the zombie apocalypse world of Zombieland 2. Of course, the Zombieland tone is a far cry from your average zombie movie/TV show, as it puts a much more comedic slant on the formula. By all accounts, Ruben Fleischer and writers Rhett Reese, Paul Wernick and David Callaham have some wild things in store for fans as they dive back into the world of Zombieland for a second go-around.
Source: Deadline