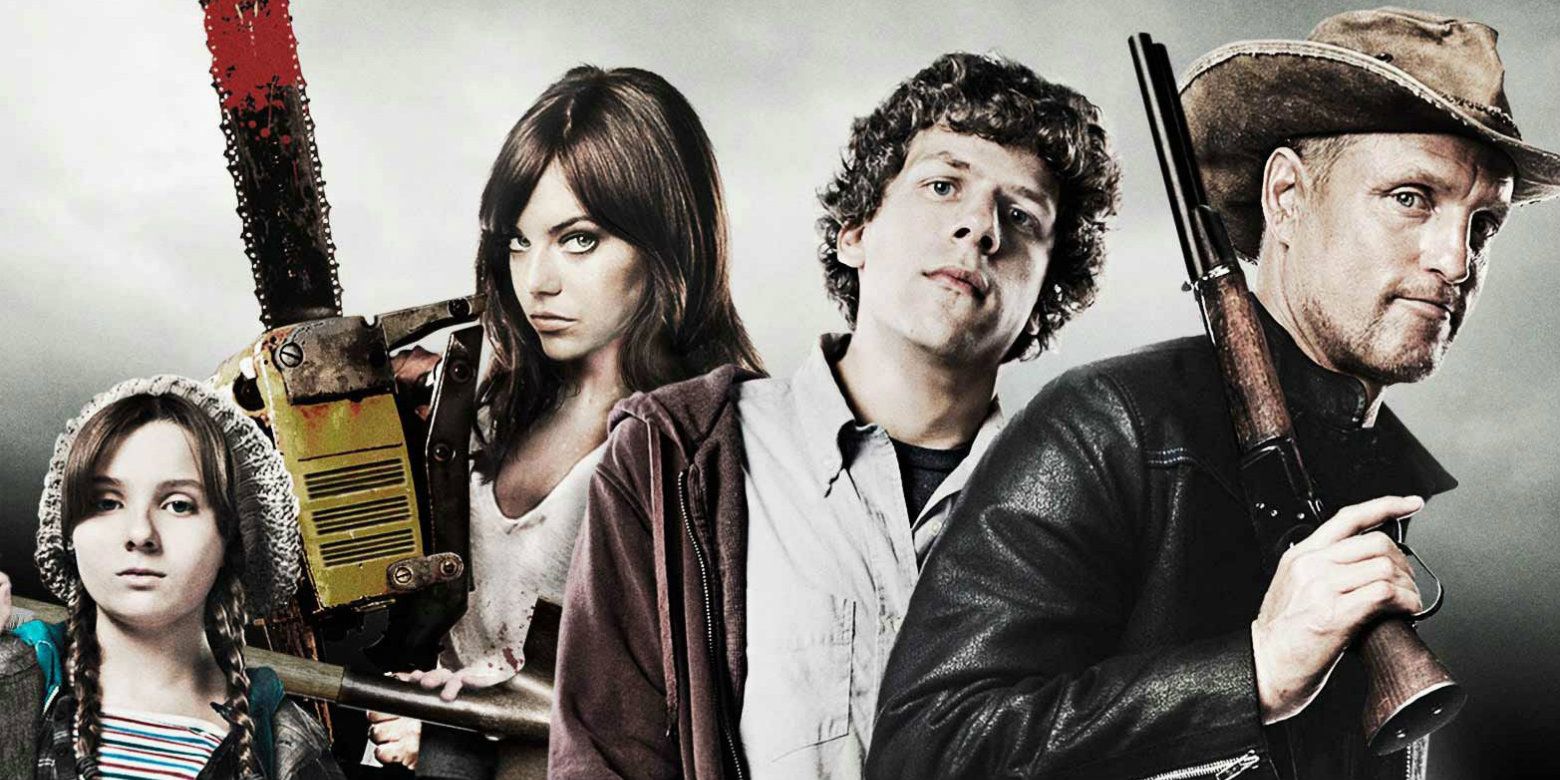 The first look at Zombieland 2 – officially titled Zombieland: Double Tap – has been released. When Sony Pictures released the first Zombieland in 2009, it received critical acclaim and featured a cast on the rise. Woody Harrelson, Jesse Eisenberg, Emma Stone, and Abigail Breslin starred in the apocalyptic zombie film, but it only made just over $100 million at the box office. However, the original movie has picked up quite the following over the years and it was enough for Sony to continue developing a sequel.
Original writers Paul Wernick and Rhett Reese, who went on to write Deadpool and Deadpool 2, worked on a script for a few years, but it wasn't until last summer that Sony officially decided to move forward with Zombieland 2. The sequel sees director Ruben Fleischer return after delivering the studio a box office hit with Venom and also reunites all four of the main cast members. It quickly moved through pre-production since then as Zoey Deutch joined the cast last year. With filming just about to begin, Sony's revealed the first look at Zombieland 2.
Related: Screen Rant's 50 Most Anticipated Movies of 2019
The official Zombieland Twitter account utilized the #10YearChallenge that took social media by storm to reveal the first poster and official title for Zombieland: Double Tap. The poster shows the returns of Harrelson as Tallahassee, Eisenberg as Columbus, Stone as Wichita, and Breslin as Little Rock. All four are armed and ready to kill any zombies they cross.
Even though the foursome has spent another 10 years in the zombie-infested world, it doesn't appear to have taken too much of a toll on them. However, this tight-knit group won't stay so close throughout the sequel according to the reported plot. Double Tap will reportedly show Columbus and Wichita have a fight that results in Little Rock running away. This will result in them encountering new types of zombies and new humans, one who will capture the attention of Tallahassee and could be played by recent addition Rosario Dawson.
The surprise first look reaffirms why Wernick and Reese previously debunked the rumored Zombieland Too title for the film, with them instead pushing forward with Double Tap – another title that was at one point rumored. But, Double Tap is a much more appropriate title for the sequel, as performing a double tap on all zombies is Rule #2 for Columbus. Now that production is set to begin very soon and Zombieland 2 is set to release later this year, it may not be too much longer before more Zombieland: Double Tap news and promotional materials surface.
Source: Zombieland